P to T
This is Part

4

in my series of the ABCs of Thrifty Teaching Tools. Click here for A to E, F to J, K to O and U to Z. Below is a link to 60+ Kid Bloggers in an amazing Alphabet Series in five categories.
P -
Items for Activities, Alphabet Boxes and Blocked Letters: Pom poms, pizza, pillows, puppets, puzzles, popcorn, porcupine, paint, playdough, paper towel rolls, pasta, pets, peanuts, pretzels, pictures, picture books, pipe cleaners, pinecones, pineapples, paper, popsicles, pop, packing peanuts, pogo sticks, pony, paper plate crafts, paint with straws, patterns, picnic, pig, penguin, princess, pumpkins, polar bear, Pin the Nose on...
I grew up PLAYING OUTSIDE often. What did I play?
Jacks - I was the Queen of Jacks – spent many hours on the front porch playing with old rusty jacks and the same golf ball

Jump rope

Skates - hand-me-down metal skates with a key to adjust size – not exactly speedy

B

icycles - old bikes my father kept repairing

Dolls were carted around in wagons and buggies

Kick the can

Basketball, softball, catch

Hola Hoop

Pogo Stick

Marble games in the dirt

Badminton

Croquet - We didn't have a set but our best friends did

Hide and seek

Hopscotch with a rock

Collections - I loved collecting locust shells in the daytime and fireflies at night.

(To read the entire post, click on Back to the Basics: Play Outside.)
Q -
Items for Activities, Alphabet Boxes and Blocked Letters:
Q-tips
, quilts,

q

uiet

s

pace, quarters

, quick, Quaker Oats.
Quilt: Make a tissue paper quilt using different color

s in squares

Quiet Space: Children will greatly benefit from a quiet reading space and it will give you some down time.

A sheet

or

b

lanket over chairs works great.

Q-Tips: Children enjoy using a Q-tip

,

white paint and black paper for a star

k

contrast. If they are not sure what to paint, you could suggest a snowman at night with a moon and star

s

.
QUIET Time helps children and parents
R -
Items for Activities, Alphabet Boxes and Blocked Letters: Read, rice, robots, races, rainbows, rope, recycle, re-use, restore, replinsh, ribbons, rocks, rubbings, rest, relax, respect, responsibility, rhyme, roads, rockets, rain.
Reading Buddies: This can be a very successful program in school to have an older class come in for thirty minutes a week to read the kindergartners' library books to them. The students can also help with some writing activities.
Recycle! Upcycle! Kids' Arts & Activities on Pinterest
S -
Items for Activities, Alphabet Boxes and Blocked Letters: Seeds, straws, sticks, spray bottles, sew, slide, swing, snake, snow, snowflakes, sensory bins, sun, shadows, shaving cream, sheets, salt, soups, share, service, science, Scavenger hunt, stamps, spatula, special, snickers, soap, sort, salt, sand, sponges, sticks, seashells, stars, seahorse, slime, shake, shapes, snails, sea, see, seagulls, sidewalk, stickers, spiders, socks, spinner games.
T -
Items for Activities, Alphabet Boxes and Blocked Letters: Transporation, trains, trucks, tigers, tubes, tin cans, tin foil, tissue paper, toilet paper rolls, touch, taste, time, time out, tick-tock, tea party, tarantula, teams, t-shirt, ten, Tuesday, treasure hunt, tree, turkey, turtles, Twister game, think, thank you, things that go, thrift stores.
To see all five categories in The ABCs series by 60+ Kid Bloggers, just click on the button below: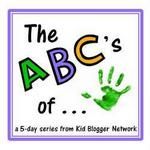 Another category in this ABCs Series is Literacy and Language:
You may be interested in my books.
Both have been number 1 bestsellers.